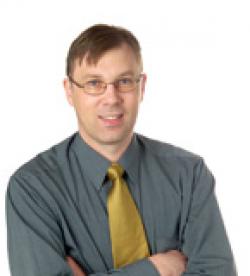 Phone: +215-682-9330, Extension 102
Toll Free: 877-367-4267, Extension 102
E-mail: dloveday@gamry.com
David Loveday
Electrochemical Expert
David Loveday grew up in Kent near London and received his Ph.D. in Chemistry from the University of Bristol.  He also earned his Bachelors and Masters degree at Bristol.  Dave's research advisor was Dr. Rob Hillman.

Dave's research used electrochemical techniques with a Quartz Crystal Microbalance to study polymer films.  He even employed EIS to characterize the films!

Dave came to the US for a post-doctoral appointment at the University of Texas at Dallas.  He served as the Electrochemist Supreme in Dr. John Ferraris' lab, in which the primary research effort was directed at conductive polymers.

Since Dave joined Gamry in 2001, he's enthusiastically made the transition from research laboratory to commercial enterprise.  He's learned more about potentiostats and software (Dave is an expert on custom scripting) and corrosion science than he ever imagined.  Through his years with Gamry, Dave has the experience that only longevity can provide.  He's a real asset to our users.