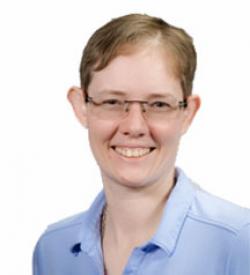 Phone: +215-682-9330, Extension 157
Toll Free: 877-367-4267, Extension 157
E-mail: cschroll@gamry.com
Cynthia A. Schroll
Product Marketing Specialist
Cynthia grew up in Kettering, Ohio and received her B.S. in Chemistry from Morehead State University. Upon the advice of Dr. Nathaniel Coker she attended graduate school at the University of Cincinnati, where her research advisor was Dr. William R. Heineman.
Her research was on the spectroelectrochemical detection of f-block elements in molten salts under pyroprocessing conditions. A majority of the work was performed at Pacific Northwest National Laboratory through the collaboration with Dr. Samuel A. Bryan. She also has a patent for her work developing a spectroelectrochemical apparatus and method for detecting analytes within a micro-drop of solution.
Prior to joining Gamry in the winter of 2015 she spent two years working for another manufacturer as the Electrochemistry Product Manager. There she developed her skills in the areas of sales and marketing working closely with the business development group. Since being at Gamry she has taken over as show organizer, and is working on developing a teaching kit for undergraduate laboratories to accompany the Interface 1000T.